The What: The Global Climate Action Summit will bring leaders and people together from around the world to "Take Ambition to the Next Level." It will be a moment to celebrate the extraordinary achievements of states, regions, cities, companies, investors and citizens with respect to climate action. It will also be a launchpad for deeper worldwide commitments and accelerated action from countries—supported by all sectors of society—that can put the globe on track to prevent dangerous climate change and realize the historic Paris Agreement.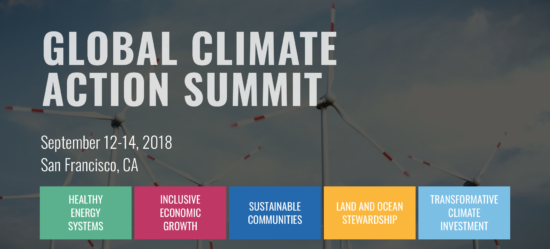 The decarbonization of the global economy is in sight. Transformational changes are happening across the world and across all sectors as a result of technological innovation, new and creative policies and political will at all levels. States and regions, cities, businesses and investors are leading the charge on pushing down global emissions by 2020, setting the stage to reach net zero emissions by midcentury.​​
The Global Climate Action Summit will showcase the actions that states and regions, cities, companies, investors and civil society have taken already to reduce their emissions; secure bold commitments to do even more, show that decarbonization; job generation and resilient economic growth go hand-in-hand and galvanize a global movement for climate action that leaves no one behind.
The Co-Chairs of the Summit are: Jerry Brown, Governor of California; Patricia Espinosa, Executive Secretary of the U.N. Framework Convention on Climate Change; Anand Mahindra, Chair of the Mahindra Group; and Michael Bloomberg, U.N. Secretary General's Special Envoy for Climate Action.
The When: September 12th – 14th, 2018
The Where: San Francisco, California
The Who: State and local leaders to businesses, investors, scientists, students and nonprofits.
The How: People everywhere are encouraged to participate in the hundreds of affiliate events taking place in the San Francisco Bay Area and throughout the world including climate action panels, workshops, tours, exhibits and other special events. The full affiliate event schedule will be posted this summer.
You can virtually attend the Summit by streaming it live on YouTube, Facebook and Twitter. In person, Summit attendance for the plenary and other high-level sessions is by invitation and will require accreditation. If you represent an organization ready to make a major climate commitment at the Summit, please send details about that proposed announcement by clicking here.
The Details: You can stay updated here.