The Green Architecture and Building Report (GAB Report) is a resource for sharing information on responsible, green, and sustainable design, ranging from the architecture to the building details, and from the site features to the building products.  It is a chance to share the perspectives of the people who design, build, own, and occupy the buildings, and to strengthen our community with knowledge.
These are exciting times.  We in the design and construction industry have come a long way in understanding and recognizing the importance of energy efficiency, resource conservation, healthy indoor/outdoor air qualities, and the dire consequences of not embedding them into our standard way of doing things.  But we have so much more to do.
The next step is to live and breathe green building and design, inherently incorporating pervasive green design philosophies into our standard practices rather than identifying them as premiums.  It is our responsibility to continuously educate not only ourselves but to also engage the general population.
Editor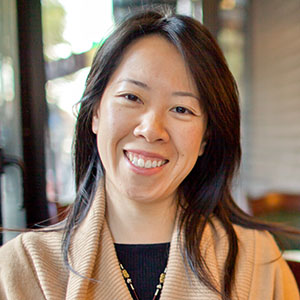 Mignon O'Young is a California licensed architect, Certified Green Building Professional (Build It Green) and LEED Accredited Professional (USBGC) with more than 15 years of experience in the design, construction, green building, and affordable housing development industries.
My passion for responsible, green, and sustainable design and architecture all began in 1993, during my junior year at U.C. Berkeley, when I took a sustainable development design studio course taught by Professor Galen Cranz.  As any good designer would do, we took a field trip to the project site in Manhattan to understand the site conditions and learn from the professionals who were leading the way in green building and sustainable development.  We met with the architect who did a green remodel of the New York office of the Natural Resource Defense Council, and William McDonough who shared with us the concepts behind his guidelines:  The Hannover Principles—Design for Sustainability, commissioned for the City of Hannover's EXPO 2000.  It was amazing to hear about what they accomplished and I was eager to learn more.
Upon my graduation in the early 1990s, it was difficult to find a job in an architecture firm that specialized in green building because there were not that many firms doing it, and the few people who were, were just starting to figure it out and shape the field.  Therefore I took the traditional route of starting an architectural career and had the fortunate opportunity to work for my former professor and world-renowned architect, the late Don M. Hisaka, FAIA.  I learned from him what makes design great and buildable, the ins and outs of the architectural practice, the design process, and the importance of having integrity as a responsible architect.
I also had the opportunity to work for 6-years at Citizens Housing Corporation, a non-profit developer of affordable housing in the San Francisco Bay Area.  It was there that I was able to re-focus my interests in green building and make direct, positive impacts on the built environment.  As the construction manager, I helped define the philosophy and goals in making our projects green, healthy, and sustainable.  Our projects included the first LEED certified residential building in Northern California in 2005 followed by numerous GreenPoint rated projects.  The roles of client and building owner are powerful, allowing one to engage with a broad audience ranging from architects to government agencies, and from construction contractors to product vendors.  This role provided us an opportunity to think big, lead the way, and be accountable for developing and building responsibly.
For the past 5 years, I have been a consultant to affordable and for-profit housing developers; creating organizational policies for green building operations and maintenance, and project-specific operations and maintenance manuals for GreenPoint rated and LEED for Homes certified multi-unit development projects.
As an industry, we've come a long way but we still have a lot of work to do.  The GAB Report is my way of reaching out to more people, hoping that we can share our experiences and work together as a community to make huge, positive impacts in the world in which we live.
Contributors