The What: The building industry is moving quickly beyond the standard practices on energy efficiency. Today's ultra-efficient homes produce as much energy as they consume, and then some. Groundbreaking developments in building materials and technology ensure that homes are not only efficient, but also healthy for occupants. Build It Green's Beyond Energy Efficiency Conference aims to bring together leading industry experts as well as hundreds of building and home professionals who are working to achieve this higher standard of home performance to ultimately contribute to a healthier, more sustainable future.
This full-day event will comprise of cutting-edge workshops, seminars, building product expo and demonstrations, and certification trainings–all with a focus on practical knowledge that can be incorporated into business practices immediately in order to gain a competitive edge in preparation for California's fast-approaching 2020 zero net energy (ZNE) code requirements. The conference will explore the following emerging trends that are raising the bar and redefining what it means to be "green."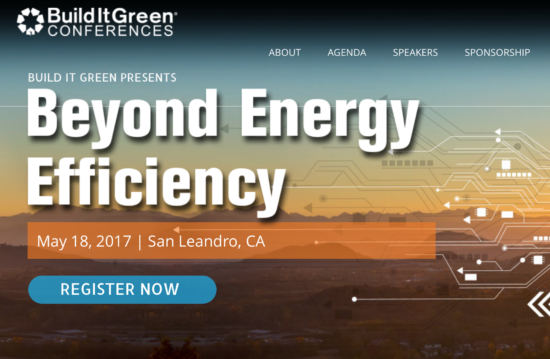 The When: May 18th, Thursday
The Where: Zero Net Energy Center, 14600 Catalina Street, San Leandro, CA 94577
The Who: Everyone who cares about getting to zero and beyond
The How: Register here.
The Details: Workshop Tracks include: Policy & Code Updates; High-Performing Homes; Healthy Homes & Indoor Air Quality; Design & Materials; ZNE Electrification; Utility Rebate Programs; Marketing & Selling; Advanced Water Conservation; and Zero Net Energy Homes. After a full day of learning and networking, the conference will end with a happy hour.