The What: Join a no-cost ZNE School Retrofit Workshop to learn how existing K-12 schools and community colleges can enhance spaces for academic success and achieve ZNE through whole-building retrofits. Zero net energy (ZNE) K-12 schools and community colleges support better quality of education for students by providing access to natural ventilation that brings in fresh air and daylighting.*
ZNE schools are high performance buildings that combine energy efficiency and renewable resources to produce at least as much energy as they consume annually. Proposition 39 provides renovation projects with additional financial resources that can help transform some of California's K-12 and community college buildings to ZNE.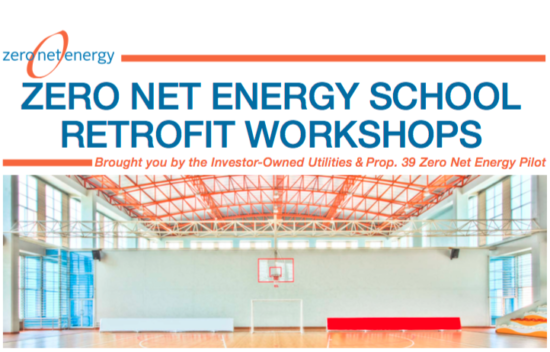 The When: June 30, 2016, 9 am – 12 pm, at the Fullerton | California Higher Education Sustainability Conference
The Where: California State University, Fullerton, 800 N State College Blvd., Golleher Alumni House, Fullerton, CA 92831
The Who: ZNE & the School Community for Administrators and Stakeholders
The How: The event is free. Register here.
The Details: The three-hour community stakeholder workshop will discuss the benefits and value of ZNE K-12 schools and community colleges, the costs and savings associated with ZNE and low energy projects, and help participants understand how to access Prop 39 funds to help upgrade a property's energy performance, and address strategies to achieve successful ZNE project financing, planning, design, construction and operations.
* A recent university study found information usage scores were 299% higher when VOCs were minimized and ventilation increased, compared to scores that were achieved when participants were exposed to conventional air quality conditions.