The What: We now have the science and techniques to build for comfort, health, and revolutionary efficiency. At the center of it all is the advanced building envelope. Join AIA Portland and builder Hammer & Hand for this exhibit of building praxis, "Evolution of Enclosure: the Anatomy of Building Performance." The exhibit will explore the building science that guides high performance assemblies, drawing on built projects in Portland Seattle designed by Holst Architecture, Scott | Edwards Architecture, SHED Architecture & Design, and The Miller Hull Partnership.
Four full-scale wall assembly cross sections, a suite of building science illustrations, project photography, and an interactive set of high performance building animations will show how buildings can go from net consumers of energy to net producers: part of the climate solution. The Opening Party will also feature the unveiling of the winning entries to the perFORM 2015 Building Design Competition.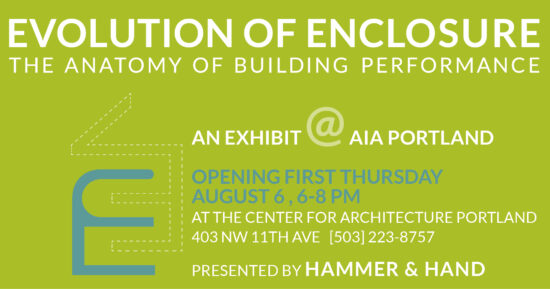 The When: Thursday, August 6th,  6:00 – 8:00 pm (The Exhibit runs through September 10th, 2015)
The Where: The Exhibit Opening Party will take place at AIA Portland Center for Architecture, 403 NW 11th Ave, Portland, Oregon, United States
The Who: The general public and industrial professionals
Per Sam Hagerman, co-owner of Hammer & Hand,
We've designed the exhibit to work on two levels. First, to provide the general public with a basic understanding of building science principles and how they can guide zero energy building, and second to speak to industry professionals who may be coming in with a more advanced knowledge base.
The Details: Wine and refreshment. For those looking to delve deeper into the exhibit's themes, Sam Hagerman will give an accompanying presentation on the fundamentals of building science, an overview of high performance wall assembly types, and construction techniques drawn from Hammer & Hand's Best Practices Manual. The presentation will take place at AIA Portland on September 28th at 12:00pm.
About Hammer & Hand: Hammer & Hand is a builder that partners with architects on commercial and residential projects in Portland and Seattle. The firm specializes in design-driven construction but has no designers on staff, so collaboration with architecture firms is written into its DNA. H&H is honored to work with the architectural community to help propel the evolution of building practice. In this spirit it presents this exhibit, the Evolution of Enclosure.