The What: The 15th Annual Water Conservation Showcase brings together designers, building professionals, product manufacturers, decision makers, and community members to discuss the latest in water conservation strategies, technologies, policies, and resources. Water is a limited natural resource, heavily impacted by the built environment. Using sustainable practices in a building's development speaks to the triple bottom line – people, profit, and planet.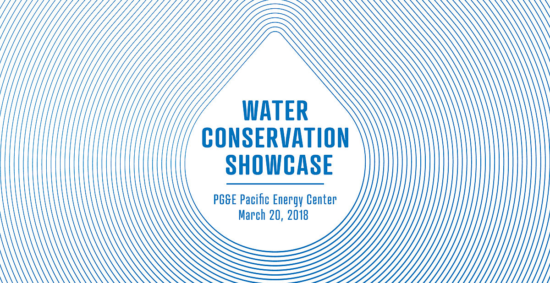 There will be in-depth presentations including several of them focusing on drought issues. There will be more than forty representatives from the manufacturing sector such as DripCycle and High Sierra Showerheads as well as organizations such as the California Water Efficiency Partnership and Bay Area Water Supply and Conservation Agency.
This event is organized through the combined efforts of the PG&E Pacific Energy Center, East Bay Municipal Utility District (EBMUD), San Francisco Public Utilities, U.S. Green Building Council's Northern California Chapter (USGBC-NCC), and AIA San Francisco. Water conservation topics including policies, rebates, business case studies, treatment innovations, stormwater management, low impact development, water supply history and future, and water re-use solutions. Learn how you can reduce your water impact on the environment.
The When: Tuesday, March 20th 2018, 9:00 am to 6:00 pm.
The Where: The event will take place at the PG&E Pacific Energy Center, 851 Howard Street, San Francisco, California.
The Who: Anyone who is concerned about the state of water today and water conservation. Representatives from municipal water districts, diverse development sectors, research institutions, product manufacturers, non-profit organizations, government agencies, professional associations, consulting and investment firms, and more.
Local and national experts.
The How: The event is free, but please register here.
The Details: There will be nine education sessions. Each session is approved for (1) Continuing Education Hour for LEED Professional credential maintenance.
The Latest in Water Conservation: New programs, Research, Training and Advocacy
Water Conservation Case Studies: Achieved Savings and Lessons Learned
Workshop on Compost and Mulch for Healthy Soil Management
California Climate Variability and Drought; Improving Forecasting
San Francisco's Stormwater Management Requirements
Workshop on Best Practices for Water-use Evaluations of Commercial Facilities
Impact of Climate Change on Street Trees in California
Lawn Conversion Programs: Accelerating Sustainable Landscape Transformations
Water Reuse  System Design Charrette